Before video gaming consoles like Xbox 360 or PS three or four came to the market, there were previous video gaming consoles. One of them is the Gameboy Advance. Being a handheld video game console, it was popular in the early 2000s.
Nintendo is the official manufacturers of GBA. Its first release to the market was 2001, and its supply seized in 2010. For kids who were born in the 1990s or before, I am sure you know about this gaming console.
Over eighty million GBA's were sold between 2001-2010. The following are specifications of GBA.
32-bit ARM7TDMI CPU
32 KB RAM, 256KB ROM, and 96KB VRAM
8×61.2mm Screen Size
However, in this piece, the main aim is for you to get to know about the best GBA emulators for Windows 10 and Mac OS.
Top 6 GBA Emulators for PC & MAC
They include;
1. mGBA
Your love for Gameboy Advance games cannot be equated to anything in your life. So, with the demise of GBA video consoles now, you can download emulators and install them on your PC and get to play all GBA games.
mGBA is one of the best GBA emulators. While using this emulator, be sure to enjoy playing games without any compatibility problems. On 21st January 2020, mGBA released a new version of the emulator that has advance features, unlike the previous version.
Features
High-resolution OpenGL renderer
Earlier versions of this emulator used software to render, but this version of the screen is now rendered to the Graphics Processing Unit. Hence, having the capability to reach a 4K resolution.
battleship Gate

Interframe Blending

Frame Inspector
You can download mGBA either on your Windows 10 or macOS PC. For more information about mGBA, you can click this link.
| | |
| --- | --- |
| Emulator | mGBA |
| Operating System | Windows 10 & macOS |
| Version | 0.8.0 |
| File Size | 12MB |
| Rating | 4.5 |
2. NO$GBA
Also known as NoCashGBA. It is another GBA emulator you can download and install in your Windows 10 and macOS PC. During its launch, it was meant for Windows PC, but with time now, it can run in macOS PC.
You can play GBA games without interruptions and as fast as you like. It has exceptional graphics making you enjoy playing Gameboy Advance games like Pokémon.
Click on this link for more information about NO$GBA.
| | |
| --- | --- |
| Emulator | NO$GBA |
| Operating System | Windows 10 & macOS |
| Version | 2.9 |
| File Size | 187 KB |
| Rating | 4.9 |
3. Higan GBA Emulator
Formerly known as bsnes was first released in 2004, but the latest version was ready for download in 2019. Many people globally love this emulator as it gives you a new gaming experience.
Therefore, if you want to play GBA games on your PC, it is best if you download the Higan emulator. Its version advancements have made it become among the best GBA emulator in the market.
So, don't let your free time pass by without any relaxation. Download and install this emulator and get the best gaming time.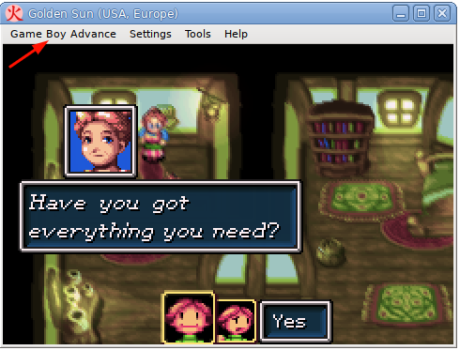 Visit the Higan official website for more information about the emulator.
| | |
| --- | --- |
| Emulator | Higan |
| Operating System | Windows 10 |
| Version | v107 |
| File Size | 2 MB |
| Rating | 3.8 |
4. BATGBA
When looking at the first GBA emulators to be developed, then BATGBA is one of them. The latest version of this emulator was in July 2002. Many years ago. The file size is small and easy to download and install. With BATGBA, you get to play GBA games seamlessly. No need to added installations.
A drawback of this emulator is that is doesn't have advance features, which can give you challenges while playing the game.
If you need more details about this emulator, click this link.
| | |
| --- | --- |
| Emulator | BATGBA |
| Operating System | Windows 10 |
| Version | 2,25b |
| File Size | 230 KB |
| Rating | 3.6 |
5. VisualBoy Advance
Julian Henry Hitchcock and Michael Henry Watford are the authors of this Gameboy Advance emulator. However, it was developed by the VBA team and is compatible with both Windows and Mac PC's. The best thing about this emulator you can set your preferred language like English, French, German, Italian, Polish, Portuguese, Chinese, Spanish, and Turkish.
VBA supports the following features.
GUI skinning
Screen capture
Full-screen mode
Speed-up key
Auto-fire
Full save state
Therefore, with such, you are sure that you will have an easy time while playing GBA games using this emulator.
For more information about the VisualBoy Advance emulator, please click on this link. You can download the latest version of VBA for your macOS or Windows 10 PC using the following links.
Download for macOS and Download for Windows
For more download information, click this link.
| | |
| --- | --- |
| Emulator | VBA |
| Operating System | Windows 10 & macOS |
| Version | v2.1.3 |
| File Size | 6.52MB for Windows and 6.7MB for macOS |
| Rating | 4.0 |
6. Boycott Advance
For the people who have Boycott advance emulator on their PCs, they give positive feedbacks on its operation. It is compatible with both macOS and Windows 10. So, you don't have issues playing GBA games on your PC.
For additional features to make your gaming time memorable, you can download the emulator enhancer. It supports the following things.
USB joysticks and gamepads
Full-screen mode
Audio effects
Fast opening of latest games
If you are using macOS, ensure you are using the latest version as the emulator latest version only runs on the new macOS version like macOS X 10.11 and above.
| | |
| --- | --- |
| Emulator | Boycott Advance |
| Operating System | Windows 10 & macOS |
| Version | V0.2.8 |
| File Size | 635.55 KB |
| Rating | 4.2 |
So, if you have been looking for the best Gameboy Advance emulators now, you have known them. With them, you are confident that you will play various GBA games without any issues. What you need to ensure that the emulator you download is compatible with your PC.
Thank you for reading. If it has been informational, please share it with others. For any questions, leave a comment, and we will respond.